In this video, Tara with the Sold By Simmons Team talks to buyer about the competitive Denver market.
So I know a lot of buyers are out there getting frustrated with the market. And we did a video a while ago that talked about the strategies that you can use to win in multiple offer situations.
But today's video, I specifically want to talk about personal letters. Should you or should you not submit a personal letter to the seller along with your offer to kind of tug at those heartstrings a little bit and get them to move your offer to the top of the pack?
For Buyers
If you're a buyer, we want to do everything we can to help you get that house. And if that means tugging at the heartstrings of a seller, absolutely, we want to see you submit those offers and those personal letters
But a couple of things to keep in mind, we want those personal letters to focus on the house and what you loved about the house. Not necessarily everything about you personally.
So maybe saying something like, "Gosh, I fell in love with the back yard and could see entertaining friends and family in the summertime on the covered deck."
Those are things that you might want to say. Or, "I love the updating that you did in the upstairs master bathroom. It was totally my style and taste and something I've always dreamed about in my new home."
Things like that. I want you to stay away from things like, "My church is around the corner so it's the perfect location." So we want to stay away from things like that. Absolutely, you can include a photo.
We've had buyers take pictures of themselves in the house or in front of the house.
Buyer Love Letters
So absolutely, as a buyer, YES, let's submit those personal letters along with our very strong offers to the sellers.
But very strong offers is the key phrase there. We want those offers to be strong. Remember, this personal letter, sometimes we call them "buyer love letters."
It's just a teensy-weensy little strategy that can kind of help pull things in your favor if we're in multiple offers and all things are the same.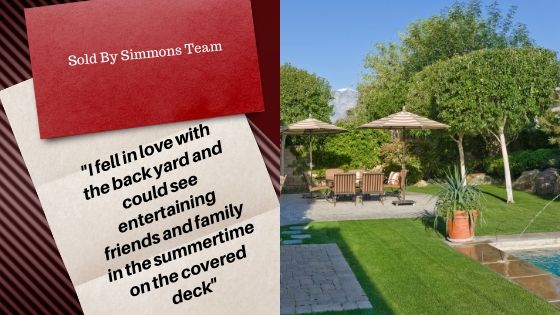 But at the end of the day, the seller cares about price and terms, right? They want to know what their bottom line is.
So we want to have those really strong offers with other strategies that carry way more weight than these personal letters. So certainly reach out to us.
Ask us about what those other strategies are, how we can help you go through that process.
For Sellers
If you are a seller and you are watching this video and you are thinking about hiring the Sold By Simmons Team to help list your house, you might be surprised to find out that in our listing agreement, we might discuss that we do not want to share those personal letters with you as a seller.
That's a whole other video and a whole other conversation. But remember, this is real estate. And our job is to represent our clients well.
If we're representing a buyer, then we want to use all of those strategies that are great for buyers. But submitting all of those personal letters to a seller just might not be what is best for our sellers.
But at the end of the day, yes, buyers go ahead and submit those personal letters.
Ask The Sold By Simmons Team
If you have any questions, certainly don't hesitate to reach out and ask, comment, call (720-308-6035) email (Team@soldbysimmons.com), text at any time. We're always happy to be an open book.